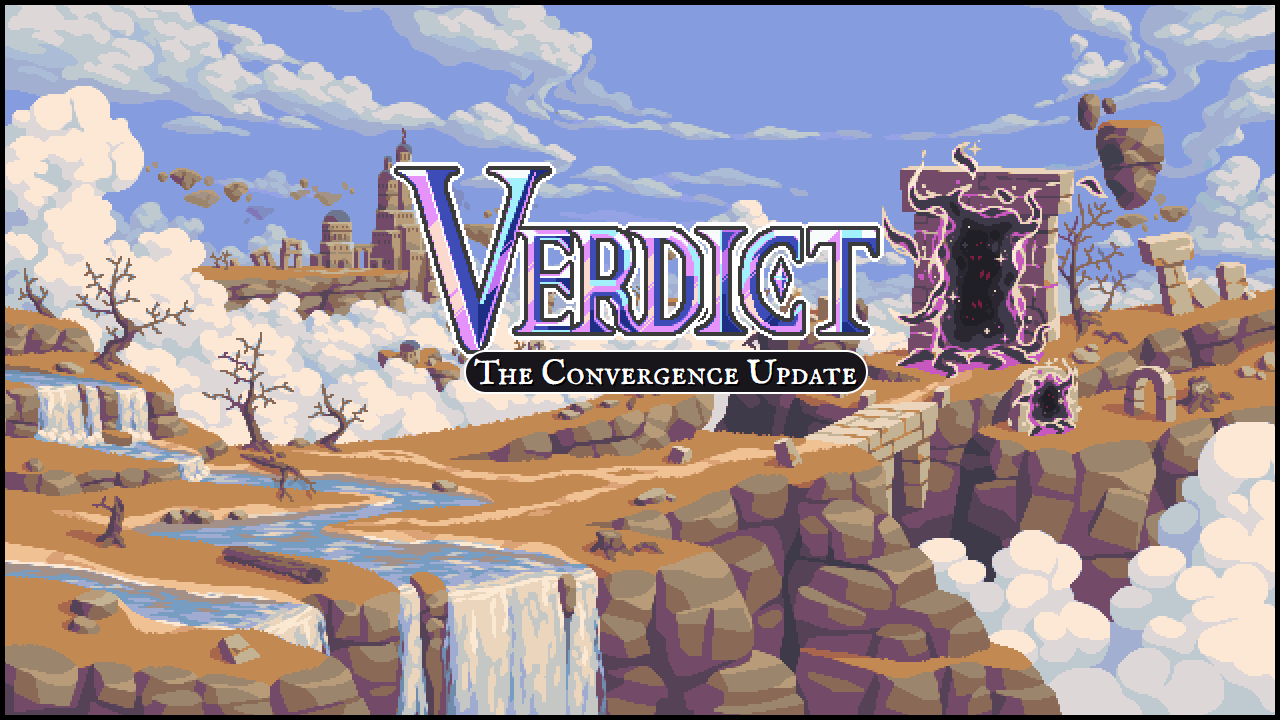 Version 2.10 - Mid December
Hey there! If you've been keeping up with Verdict, you're probably aware that we recently closed out Verdict's first arc this past weekend with an enormous contribution of our whole event team and several dozen involved players. It was a blast, and whether you were there or not- whether you've been with us so far or otherwise- I wanted to lay out my plans for what comes next.
First of all, I'd like to say that while I was extremely happy with the quality of the events we produced, I do want to shift things around in terms of plot and adjust expectations in that regard. I'll separate this post into two parts, where the first is all the cool awesome stuff you want to see from my coding hands and the second is the boring bureaucratic RP structure that some of you are probably more curious about.
Before we jump into it: yes, the date is purposefully a "little far" (about a month or so) out from the current moment. We wanted to oblige player requests and give everyone a bit of breathing room between arcs. No, this won't include a timeskip or wipe- in fact, the year timer will be frozen for the duration of this breathing room.
Content
I've done an enormous amount of stuff for this update already, as have my artists, but we'll be doing even more in the time between now and 2.10's release to prepare for the list below.
Kal Azul
Kal Azul is our first foray into the world beyond the borders of Rhyst as a continent. It's mostly desert, home to the Blasted Steppe and the Azure Plains. It's also home to one of the new races and several of the new subraces, as listed below. Explore its lore as well as our own in your adventure with the Faewild and the Void. As victors against the latter, their experience is invaluable.
Three New Races
We're bringing three new races to Verdict, each with their own backstory and lore. They'll slot in one per "faction", or in other words one for Urosil, one neutral, and one for Providence. I can't spoil too too much yet (more like it'd take up a whole post on its own, so stay tuned for that), but to cover the basic gist:
- For Urosil, a race of Fae-twisted sprites, able to blend in and out of animalistic shapes at will.
- For the neutrals, a race of Kal Azulans of varied size and green skin, built to fit Strength, Dexterity, or Control builds depending on their subrace.
- For Providence, a race of Void shades, known for their amorphous and shadowy physique.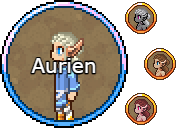 Many New Subraces & Race Cosmetics
- Reworked subrace system, allowing for per-subrace skin tones, eye colors, etc. with a less confusing interface.
- Kal Azulan humans, hardier & darker-skinned humans known for their speed and resilience over their versatility.
- Ursine Wildkin, born of the harsh Kal Azulan and Rhystian wilderness. They hold the strength and might of a bear.
- Varied Wildkin options (raccoon, rat, proper bunny & avian tails, wolf, bird, etc.)
- Ashwalker Aurien, born of the unforgiving Ashlands of Kera on Rhyst.

New Cosmetics
- Not much point in listing these out, but I've heard your complaints about a lack of cosmetics and I'm getting a lot of new ones made.
- A. LOT. Of new ones.
- Dresses, hoods, coats, masks, robes, more hairs, the list goes on!

Equipment Rework
- Added "Weight" as a stat to all equippables. Lowers Haste, Move Speed, and Dodge Chance.
- Added "Handedness" to weapons. Staves, swords, axes, bows, foci, and tomes are Two Handed, whereas daggers and wands are One Handed.
- Yes, this means you can wield two daggers or two wands, or one of each, or one and a...
- Added numerous Off-Hand alternatives like the above shields, lucky paws, and other miscellaneous items.
- Stats have been rebalanced to correspond to handedness and Weight.

New Items & More
- Added Orichalcum, the equivalent of Adamantite in Kal Azul.
- All existing Adamantite magical weapons (staves, etc.) have been converted to use Orichalcum instead.
- Iron/Cobalt/etc. armor has been made into "heavy" armor, with high Weight & high Constitution, Armor, and Res.
- Copper/Silver/Gold/Orichalcum armor has been added, focusing on high Weight & high Control but low/no Con/Armor/Res.
- New rarer leathers have been added to make "agile" armor with low Weight & moderate Constitution, Armor, and Res.
- Axes have been added as a melee weapon type. High Strength, high Weight.
- Daggers have been added as a weapon type. Allows use of bow and blade spells. Moderate Strength, moderate Dexterity, low Weight.
- Foci (Focuses) have been added as a mage weapon type. No Weight, low Control. Mostly "extra" stats (Haste, etc).

Breathing World Economy & Progression
- The mobs in the world now react to death and surplus. Killing many of a type in an area will increase the number in a different area, with the opposite also being true.
- The same is true of resource nodes. Overfarming an area will lead to other areas becoming plentiful.
- Market stalls are now temporary rentals and your items/coins are sent back to you at the end of its lifespan.
- Auction Boards exist in every major settlement now and can be used to bulk sell items per-board.

Supported Player Conflict & Experience
- Added "Scout" default spell. Allows you to stop passing characters while active.
- Added "Tracking" skill tree. Primarily active- or passive-based rather than providing craft recipes. Plays with the Scout spell and is two-pronged.
- One prong supports Scout spell and increases its radius, decreases the cost, etc.
- The other prong provides a "Sneak" spell that reduces your chances of being caught by Scout and increases your flees while active, for a cost.
- Added "Basic Attack" default spell that shifts function and name based on your active weapon.
- As examples: Staves get a low-cooldown, small energy blast, whereas Foci get a moderate-cooldown small self-shield instead.
- Added basic gear every newbie spawns in with. Also includes basic "archetypes", which are essentially just 5 free base-stats to an area. Yes, players will be able to choose these retroactively.
- Improved the new player experience dramatically.
Spell & World Expansion
- Added 10+ Relic Magic accessible via auras and/or application, depending on the "severity".
- Relic Magic is free by default, but can only be obtained at level 80, and only one may be accessed per character.
- Focuses on utilities like growing resources, instantaneous transportation, or access to otherwise locked-off maps. Some cost SpPts and also provide combat effects, though!
- Each has its own niche function and an entire tree of spells, both active and passive. Each also has a skill bar that is leveled up through normal RP, meaning you "start" at level 80 and will likely end the tree at 100+ if you wish to fill it out completely.
- Added the Sylvan Reverie and Sylvan Abyss (what remains) as access-points for Dream Communion and Waking Nightmare.
- Added the Astral Sea as an access-point for Astral Projection.
- These are just examples- we've added quite a few!
- Added sewers to Providence, mapped to the city streets.
Reworked Item Customization
- Oil-type potions have been reworked.
- No longer a set-in-stone recipe. Now takes an ore, an herb, and a gem of any description and produces an oil with corresponding stats.
- Three total Oil recipes, for Basic, Advanced, and Complex Oils. Basically just increases the resource cost & stat result.
- Oils can no longer be stacked, but last for a year after use.
- "Inlay" recipes added to Lapidary. Takes ingots and gems of varying type. Can be applied to a weapon like an Oil. Reduces Weight and increases Control/Strength for a year after application, depending on the ingots and gems used.
- Inlay cannot stack with Oils.
- "Alloy" recipe added to Blacksmithing. Takes three ingots of different type and produces a corresponding alloy.
- Added a [Component] craft-option to Adamantite and Orichalcum weaponry.
- [Component] items are labeled as such when inspected, but range from alloys to ingots to a variety of other, more miscellaneous things.
- [Component] items "flavor" your weapon. For instance, Faemetal and Voidmetal exist as hidden recipes (available via the above three methods) and when used as a [Component], make said weapon Fae- or Void-touched, causing it to deal more damage to the opposite realm's inhabitants.
- There may be other, more corruption-related uses for these metals...
Quality Of Life Changes
- Engagements now send you back to where you were standing when they end.
- Engagements full heal you pre and post round now.
- Players now have three separate hotbars that can be cycled through via buttons on the right of the HUD. Not changeable mid-engagement.
- (De)buffs cannot be cast on players mid-round from the outside.
- Health bars are more advanced, animate more smoothly, and have special effects to indicate when someone is invulnerable & otherwise.
- When in an engagement, players have health bars above their head.
- Hotkeys for party member selection.
- Bunch of other stuff.
Things I'm Forgetting
Not only is there a lot here, I'm going to be working on this until the date mentioned so naturally I'll end up adding more stuff as I go that isn't listed here. Stay tuned for that!
Plot & Conflict
With this update, the admin team and I are also going to be shifting perspective on how to handle the game plot. It'll be pretty similar to what you're already familiar with, mind, but there'll be some key differences to take note of. I know I said above I'd go into detail on this here, but since this post is already ungodly long, I'll be making another post to talk about that later! Stay tuned.