Language of the Lost
While both the Faewild and the Void have their native "common" languages, Demonic and Faescript, neither bear extensive knowledge of or relation to Enochian. The same goes for denizens of Rhyst, though oddly it tends to crop up in our history books more often than it does elsewhere if very rarely even so.
Unlike each major plane's common language, Enochian does not obey an alphabetical structure. It also seems to lack a notable origin/source as well, defining it as either too old or too forgotten to understand fully. In either case, it has proven more present as of late nonetheless.
The Basics
Conventional languages are used to communicate details about an environment or situation to another individual who speaks that language. Oddly, almost paradoxically so, Enochian does not attribute itself to these traits. Instead, Enochian is performative- by constructing words, phrases, and sentences, you can express a will on your surroundings even without magic.
By design and because of this nature, your "listeners" do not need to understand Enochian, as it isn't communicating anything. It is directing the world, and by extension, it is acting more than it is speaking. Consider it a language that speaks with magic itself rather than people, and in that way, consider it the language of magic.
How It Works
All Enochian "words", otherwise understood as "circles", begin with a single circle: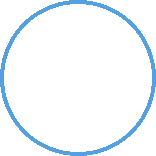 The scope of the circle can be changed by adding a triangle. With an outer triangle, like below, you can address the world at large and thus influence things over a greater area.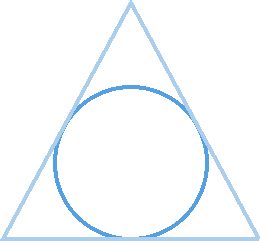 As you might expect, an internal, inverted triangle indicates an inner scope that usually specifies a singular object. This form is rarer than the outer triangle as the default expectation for a circle is a singular focus. As such, inner triangles are only necessary in outlier cases where extreme specificity is required.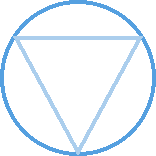 For the purposes of this sample circle, we will be using an internal triangle.
In our case, with an internal triangle, the focus will be to take properties of surrounding materials and imbue a single material with those properties. This is known as an "enchantment" circle. To do this, the first step is to draw four stabilizer circles- one for each material: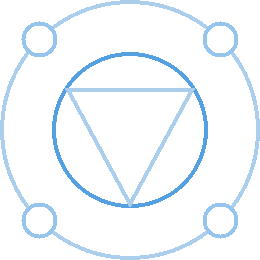 Then, four housing circles for the materials themselves: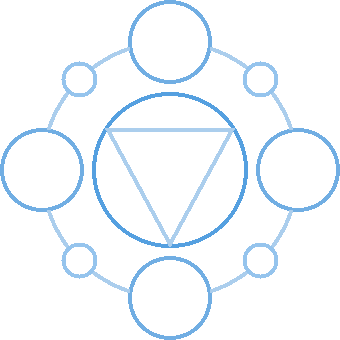 All that's left is to provide said materials.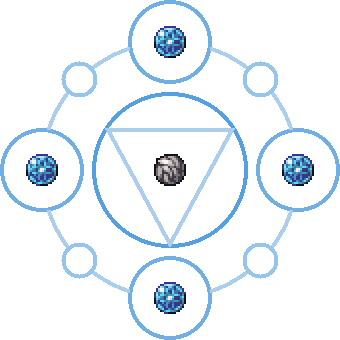 This particular circle will drain the mana from the surrounding orbs and infuse the deadened one, but the end result can vary depending on material, circle count, triangle inversion, and more, making the potential of a talented user of Enochian remarkably versatile with or without the involvement of their own magical ability.
Most prominently, Enochian is used in the burgeoning art of Artificery in Rhyst. Currently, it is only well-understood by some private and higher-up groups of Arlandria and Isegrád, but the knowledge is spreading and is thought to be only a few years out from reaching the more studied of the masses.